Welcome to Butterflyamulet.com
Butterfly Amulets by Kruba Krissana King of Butterfly
We provide the latest Amulets from Kruba Krissana direct from the Wat Weruwan .
All amulet are authentic guarantee genuine by Kruba Krissana
---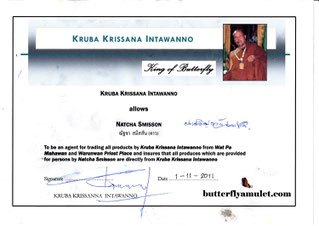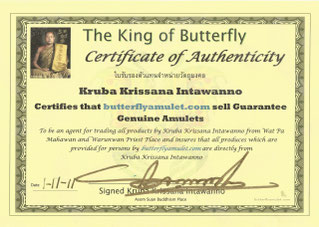 ---
---
Amulets - Past and Present.
The Latest Amulets
---
Limited Edition Direct From Kruba Krissana
---
Block A BE2545 formally wear by Kruba 
Block A amulet made by Kruba in 2002 BE2545 from  brown powder approximately 50mm x 37mm.
Engraved signature and fifteen Yant on back of the amulet set in a gold handmade waterproof casing with diamonds complete with gold and herb beads necklace
.
This amulet guarantee by Kruba with certification and photos  .
Final Price - 150 000 B...... without Necklace 120 000B
Code - KK4
For any further information please WeChat  (ID.. butterflyamulet)
or Email to natcha@butterflyamulet.com 
---
Kruba Krissana Bucha
60th Birthday Kruba Krissana Gold Bucha Limited Edition for this batch by Kruba Krissana
This Buchas was made very earlier on and was kept with him for a period of time and blessing by Master Kruba personally.Serial Number engrave on the back 32.
190mmH x 150mmW x 130mmD
Year - BE2556
Price - 20500B *******SOLD OUT*******

Code - Bucha/1
Also available is a Kruba Krissana Black Bucha .Code number 354
Year - BE2556
Price - 10500B
Code - Bucha/2
---
NEW  Thep Salika Pan Kru Sak Buriram
To help fund the building of the New Temple in Buriram, Kruba has made this amulet.
This amulet is 60mm x 40mm made from Black powder ,
Set in the front two red gems make the eye of the Nok . Set in the back takrat and temple seal with Kruba's Yant.
Only Have TEN AMULETS

Amulet Price - 3500฿  Final Price including shipping.

Year - BE2557
Powder - Black
Price - 3500B
Code - N15/01
---
---
---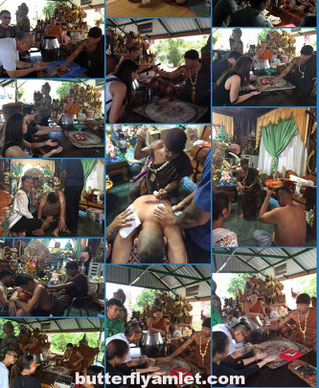 Would you like to meet Kruba ?
We can help you arrange travel , accommodation and blessing.
WeChat ID .. butterflyamulet
Call - 0066 848314912     Natcha Smisson
Call - 0066 898965118    Jeff Smisson
Email - natcha@butterflyamulet.com
---
NEW    61st Birthday Amulets
           Block A  Amulets
---
---
Prices normally including shipping.
Casing extra unless stated.
Casing available on request.
Any Further details please WeChat.
ID.. butterflyamulet
Payment Details 
PayPal to natcha@butterflyamulet.com
Credit or Debit Cards via PayPal on request , no account required.

Please include delivery address, code number and a contact phone number if possible.
Same or next shipping.
---
WeChat ID .. butterflyamulet
Email - natcha@butterflyamulet.com
Call - 0066 848314912 Natcha Smisson
Call - 0066 898965118 Jeff Smisson
---